What is wastewater-based epidemiology (WBE)?
Wastewater-based epidemiology is the science of analyzing sewage to better understand the public health impact of certain pathogens and chemical compounds within a population, and has the ability to detect potential health risks before they become an issue. Wastewater contains valuable information on human health because viruses, bacteria, and chemical metabolites are excreted in urine and stool.


What can wastewater analysis detect?
Wastewater analysis can detect a broad range of biological and chemical markers, including SARS-CoV-2 and its variants, the influenza virus, high risk substances (such as opioids), and more.
For further details on what makes a good wastewater-based epidemiology target, click here to read the blog article posted on our website.
What are the advantages of wastewater-based epidemiology (WBE)?
Wastewater data is:
Equitable: WBE can serve anyone who uses a bathroom. It does not rely on an individual's access to or use of healthcare, providing a

holistic and inclusive view of epidemiological disease trends.
Anonymized: Wastewater data represents an aggregate sample of human waste. It is inherently anonymous and cannot be traced back to individuals.
Cost-Effective: One sample is representative of many individuals in a building or community (e.g. a town or city).
Flexible: WBE systems can pivot to track the emergence and spread of newly identified infectious diseases, or diseases that are beginning to spread in areas where they were not previously circulating.
Timely: Because wastewater testing doesn't need to wait for individuals to become symptomatic, seek medical care, and get tested, WBE can provide very timely data.

For Covid-19: Wastewater data is both an independent indicator of virus activity, and may reflect trends sooner than case data because of the multiple steps involved before an infected individual is counted as a case. Many states have reduced their case updates to once a week, further delaying case information.

Comprehensive:

WBE is particularly well-suited to detect diseases with a mitigate outbreaks caused by diseases with nonspecific symptoms and/or a pre-symptomatic shedding period (e.g. Covid-19), or diseases spread primarily by asymptomatic carriers (e.g. Hepatitis C).

For Covid-19: All active infections are captured by wastewater analysis, regardless of one's vaccination status or the presence of symptoms.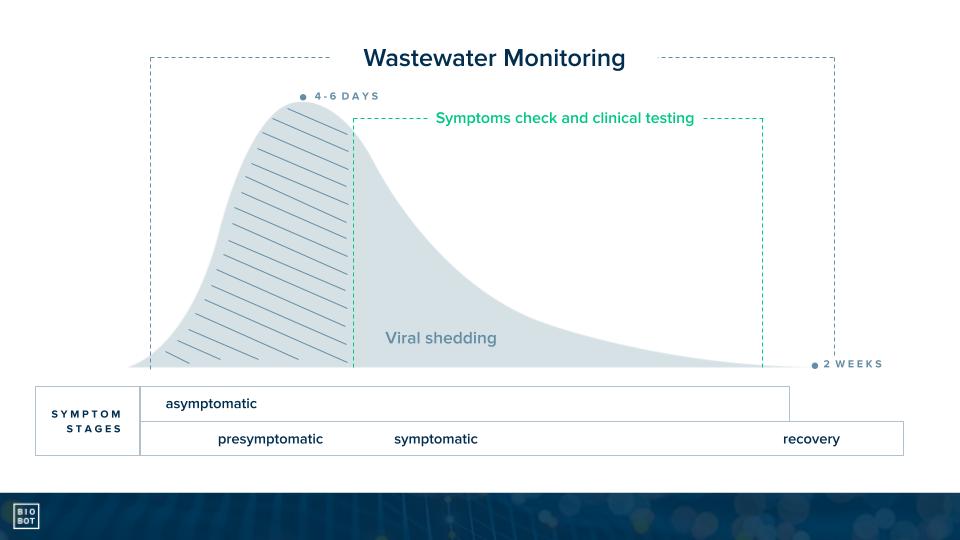 What are the public health benefits of wastewater-based epidemiology (WBE)?
Wastewater data can inform public health actions:
Direct targeted resource deployment and diagnostic testing

Provide consistent, inclusive data over time

Detect and track emerging public health risks early, such as new variants

Evaluate effectiveness of health interventions

Contextualize other health metrics

Strengthen monitoring of under-served populations

Clarify impacts on disproportionately affected communities

Inform community-wide public health measures and messaging

Can wastewater analysis be applied to local settings, like buildings?
Yes – we monitor Covid-19 within many universities, businesses, and congregate living facilities nationwide.
Our building-level analysis is a cost-effective, unobtrusive way to reveal active SARS-CoV-2 infections in ways that other building-specific mitigation strategies (e.g. health screenings) cannot. To start a discussion on how we can help, email us at support@biobot.io.