Q. What are high risk substances?
High risk substances are drugs with a potential for harm. High risk substances can be prescribed by physicians or obtained illegally, and they may cause addiction, overdose, and death.
Q. What substances are you currently testing for?
We currently test for fentanyl, methamphetamine, cocaine, nicotine, and their respective human metabolites.
Q. Why did you choose to test for fentanyl, methamphetamine, cocaine, and nicotine?
Through internal research and development, literature reviews, and conversations with local communities, we chose these four substances because they pose a significant concern to public health departments and are suitable for wastewater monitoring.
Over 50% of drug overdose deaths involve synthetic opioids like fentanyl.
Psychostimulant overdose deaths, from drugs such as methamphetamine, have increased 317% in the United States since 2013.
Over 5 million Americans report cocaine use, and it is involved in nearly 1 in 5 drug overdose deaths.
Tobacco use (measured via nicotine) is the leading cause of preventable disease, disability, and death in the United States.

Q. How does Biobot analyze high risk substances in wastewater?
Because traces of high risk substances are excreted in urine and feces, wastewater is an ideal medium for capturing community trends in HRS consumption. Biobot employs highly sensitive laboratory assays to measure the concentration of HRS markers in wastewater, which enables estimates of community substance use.
Substances are appropriate wastewater-based epidemiology (WBE) targets if:
a chemical signature of a substance, called a biomarker, is consistently measurable in wastewater, and;

resulting data are easily interpretable, specific, and actionable.
Biobot measures parent drugs and metabolites as shown in the figure below. After ingestion of a parent drug, small amounts of the drug along with metabolites (chemical signatures of the parent drug being processed by the human body) are present in wastewater. By measuring both parent drugs and their respective metabolites, we can distinguish between changes in community substance use and environmental events such as flushing down the drain (which do not reflect substance use).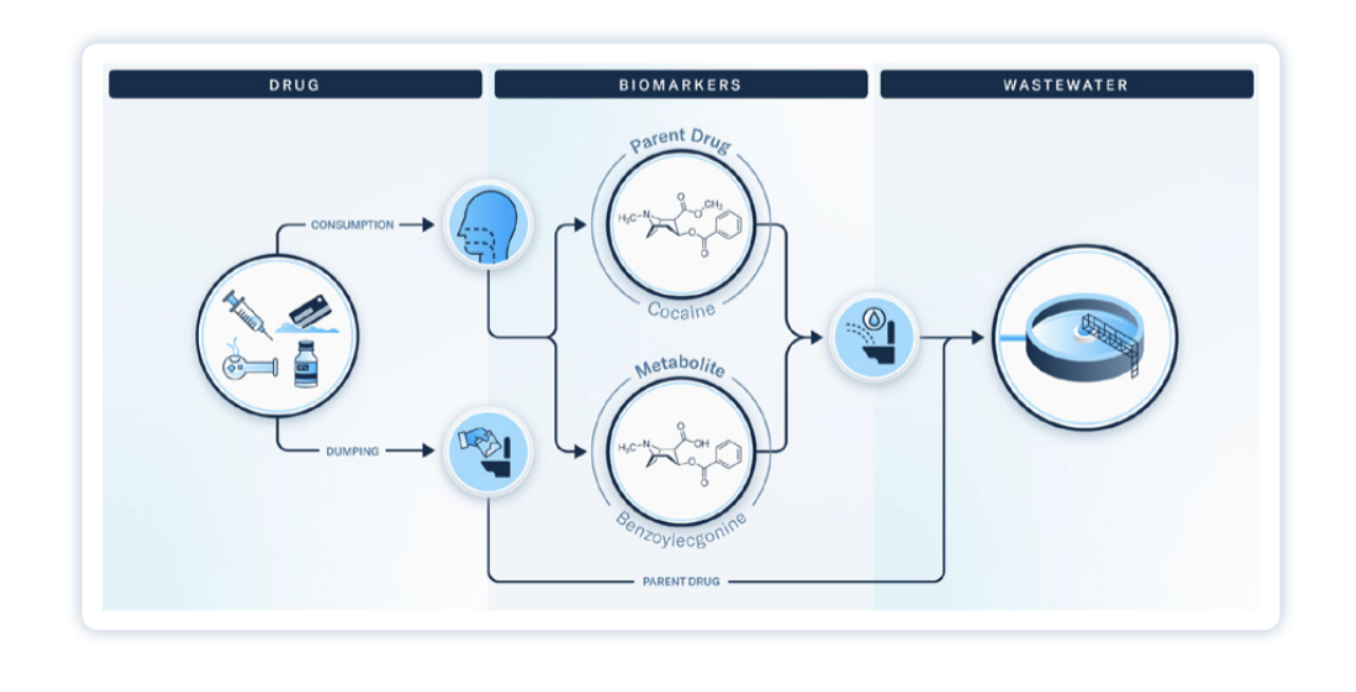 Q. What types of locations are eligible for high risk substances testing?
Per Biobot's current protocol, eligible sampling locations are wastewater treatment plants, or other sampling location types (e.g., pump stations) with regularly available data on volumetric flow rate. Flow rate data are necessary to characterize dilution rates (i.e., how quickly a substance may become diluted in wastewater), which affects the estimation of biomarker quantity. If you have questions about specific locations and whether flow data is complete, reach out to support@biobot.io.
Q. What is the recommended sampling cadence for high risk substances testing?
It is recommended to sample twice weekly. You can also collect a weekly sample, but it is helpful to have additional data points to capture variation in substance use across the week.
Q. What are the recommended sampling days for high risk substances testing?
We generally recommend that you sample on Mondays and Wednesdays. If you can only sample weekly, note that Monday sampling will generally capture higher levels of recreational substance use on weekends, while Wednesdays will capture lower levels of habitual substance use.
Q. What is the turnaround time for a high risk substance report?
We deliver HRS reports on a weekly basis. This cadence helps establish a baseline interpretation of results. Weekly samples sent to Biobot will be reported back within two weeks
Q. Can Biobot identify individuals from wastewater samples?
No. Chemical analysis of samples does not produce any personally identifiable information. Wastewater aggregates all human waste in a community (one sample is usually representative of thousands of people), naturally anonymizing each sample.
Q. Does Biobot make customer high risk substance wastewater data public?
No, Biobot does not publish individual customers' high risk substance wastewater data on our public data visualization at biobot.io/data. The decision to make any customer-level data public is up to the customer. The only HRS data that Biobot makes public is through studies such as this one, where all data is aggregated and anonymized to the regional level. Any subregional data is published with the consent of the partner.
Q. What is the importance of establishing a baseline?
We recommend establishing a 3-month baseline for high risk substance testing. This provides sufficient data to determine if any changes or trends are true increases or decreases in substance use, or whether changes represent normal variation that should be expected.
Q. Does weather impact HRS results?
Sewer systems that handle only sanitary flow will not have their HRS results impacted by weather. If you have a combined sanitary-and-stormwater system, Biobot can generally correct for events like heavy rainfall because we normalize our data using daily influent flow. There are, however, rare instances in which combined sewer systems receive so much rainfall that it dilutes the concentration of a substance below our limits of quantification or detection. If this occurs, it will typically impact fentanyl and its metabolite, norfentanyl, which are present in wastewater at low concentrations.
The impacts of other factors, such as the effects of extremely high or low temperatures or the effect of salts deployed during winter weather, require more year-to-year data to quantify. Biobot will provide updated guidance on these weather-related impacts as findings become available.
Q. Which community stakeholders can benefit from wastewater data on high risk substances?
Public health officials, community leaders, federal agencies, correctional facilities, opioid task force teams, and other stakeholders as well as members of the general public can benefit from collecting better data and enhanced insights on high risk substance use in their communities.
Q. Do you provide resources to help engage community stakeholders?
Yes. If you need assistance engaging with community stakeholders please contact support@biobot.io and we would be happy to assist you.